ITASCA, IL — Brown & Joseph is pleased to announce it has signed the lease for a 23,310-square-foot office space at One Pierce Place in Itasca, IL.
Strategically located with easy access to three major highways and within close proximity to Chicago's O'Hare Airport and downtown Chicago, the building at One Pierce Place features a newly-renovated Wi-Fi lounge, onsite deli, conference hub and fitness center.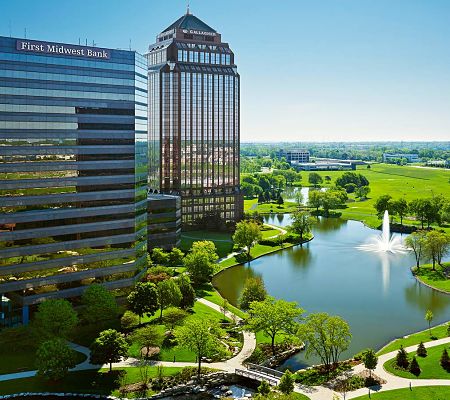 "We continue to execute on our strategic imperatives to provide our employees with best-in-class building features to attract and retain the best talent for our customers," said Mark Schabel, CEO of Brown & Joseph, who has been instrumental in the move.
"We moved into the Hamilton Partners building back in 2015. Our commitment to our employees and our expanding customer base has required us to acquire additional space. We have had a great business relationship with Hamilton Partners and are pleased to extend our lease with updated space and modern features. This lease demonstrates our commitment to the surrounding communities, the investment into our business and the expansion of our services for our customers and CPAudits, a Brown & Joseph company providing innovative premium audit services."
The upgraded space will serve as Brown & Joseph's headquarters location, maintaining strict security standards throughout, including:
Restricted key card access
Internal and external surveillance cameras
Afterhours motion sensor alerts
Uniformed security guards onsite 24/7
Water sensor for flood management
Fire detection system
Earlier this year, Brown & Joseph announced the opening of a new office in Indianapolis, Indiana, to meet the needs of our clients and acquire a new, diverse and proven talent pool.
About Brown & Joseph
Brown & Joseph is a national leader in accounts receivable management. Founded in Chicago in 1996, Brown & Joseph has enjoyed tremendous growth over the past 23 years, earning a winning reputation within the accounts receivable industry.
In 2018 Brown & Joseph was acquired by LaSalle Capital in partnership with NewSpring Mezzanine with the intent to grow the company exponentially.
With the on-site resources of CPAudits, a Brown & Joseph company that provides premium audits, Brown & Joseph is able to streamline the premium audit process from billing to collections from start to finish, reducing our client's Days Premium Outstanding and premium write-offs.
Brown & Joseph is an active member of several trade associations including the National Association of Mutual Insurance Companies (NAMIC), a proud sponsor of the Insurance Collection Executives (ICE), a founder of the ICE Education Fund and an approved vendor by the National Workers Compensation Reinsurance Association (NWCRA) through the National Council on Compensation Insurance (NCCI).
Additional credentials include:
SSAE 18 Type II SOC 1 Certified
PCI DSS Compliant
A.M. Best Recommended 'Expert Services Provider'
Certified Premium Audit Service provider through CPAudits
For more information, contact:
Dennis Falletti
Executive Vice President of Insurance Services
(847) 621-6121
DFalletti@brownandjoseph.com
Dave Robbins
Executive Vice President of Sales
(847) 621-6137
DRobbins@brownandjoseph.com