Insurance Industry Collections
Brown & Joseph's insurance recovery team collects an average of 27% more on accounts that were returned by the 1st placement agency as uncollectible.
Our results speak for themselves – we've recovered over $2.5 billion in additional revenue for our clients over the past 23 years.
Premium Collections
For optimal efficiencies, Brown & Joseph's P&C and L/H premium collection teams are segmented into units that handle either audits, earned premiums or group premiums.  For many of our largest insurance company or major broker clients, we have found even greater efficiencies to have teams solely dedicated to handling their individual premium debt portfolios.
For our servicing carrier clients, we are staffed with assigned risk/residual market experts who ensure adherence to NCCI rules and other mandates required by various state pools, plans and funds.
Our recovery specialists possess intimate knowledge of each client's policy servicing, accounting, underwriting and auditing operations, which has been proven to facilitate mutual productivity. Our Second Placement Agency Auditing Program provides the assurance that premium recoveries are maximized and that 1st placement agencies are fulfilling their obligations to meet performance expectations.
Claim Collections
Similar to premium collection operations, Brown & Joseph's P&C and L/H claim collection teams are segmented into units that handle either deductibles or overpayments (including STD/LTD, provider overpayments, duplicates, and payments made in error/unjust enrichment).
Much of our success recovering provider overpayments is attributed to relationships we have built with overpayment reimbursement professionals at large medical facilities, ensuring that they prioritize our clients' claims well before the hundreds of requests they receive daily from other insurers and/or collection vendors.
Insurance Collection Features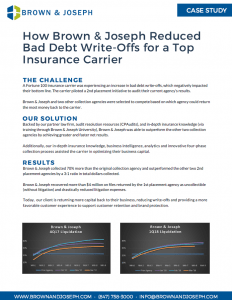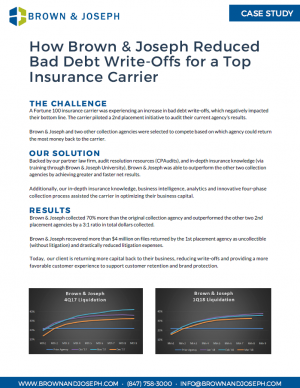 How Brown & Joseph Reduced Bad Debt Write-Offs for a Top Insurance Carrier
No-Commitment 2nd Placements
Our 2nd placement program is the perfect way to "test drive" our unique capabilities.
We will review and score all accounts returned by your first agency as uncollectible and report our findings to you at no cost, and without disrupting any ongoing or current vendor relationships.