Ever see those scary commercials on TV insisting the IRS is "cracking down this year" and urging you to "take action" now?
Americans are living in an age of spam, scams and fear mongering. For the first time ever, the Federal Trade Commission identified imposter scams as the top consumer fraud complaint of 2018.
The U.S. Treasury even set up a scam alert webpage in an effort to warn the public about scammers and robocallers impersonating the IRS.
"Imposter scams are so popular because they can steal devastatingly large amounts of money from trusting consumers in a short time," said Jim Quiggle, director of communications for the Coalition Against Insurance Fraud.
"It's relatively easy to spoof Medicare, the IRS, tech support or others — at high volume and low cost. Imposter scams can intimidate and frighten people into paying up. Seemingly real demands for money by urgent-sounding phone calls or emails can insist a consumer take fast action or face serious consequences."
These IRS impersonators most commonly prey upon the citizens of California, New York, Texas, Illinois and Florida.
Robocalls are phone calls that use a computerized autodialer to deliver a pre-recorded message. While robocalls themselves aren't illegal, bombarding consumers without their permission and trying to scam them out of their money is.
In 2017 alone, the Federal Trade Commission (FTC) received 4.5 million complaints about robocalls.
Though some robocalls are initiated by legitimate companies, robocalls are also used by scammers to steal from consumers, with Americans losing a combined total of $9.5 billion in robocall scams in 2016 alone.
On Monday, April 15, 2019, U.S. Senator Richard Blumenthal unveiled on Monday a bill dubbed "Robocop" that would require phone companies to verify the accuracy of caller ID numbers and provide customers with free technology to block robocalls and scams.
On February 4, 2019, the U.S. House of Representatives reintroduced the Stopping Bad Robocalls Act (HR 946), aimed at taking down abusive robocall practices.
"The robocalls problem is out of control and, without action from Congress, will only get worse. This legislation would tackle the growing problem of 'spoofed' calls that trick consumers into answering, by ensuring phone companies implement technology to stop these unwanted calls before they reach the consumer, at no additional cost," said Maureen Mahoney, a policy analyst at Consumer Reports.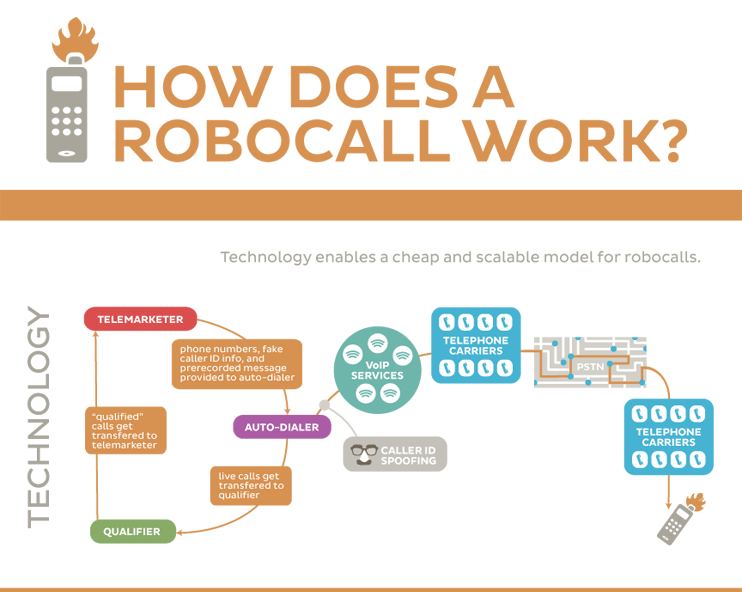 According to a press release, the Stopping Bad Robocalls Act would curb the rise of robocalls by:
Amending the Telephone Consumer Protection Act (TCPA) to ensure that the FCC has the authority and the tools to take strong, quick action when they track down robocallers;
Allowing consumers to revoke consent they had previously given to receive calls at any time and in any reasonable manner;
Codifying a reassigned number database to put robocallers on notice when a telephone number they may have previously been authorized to call has been given to a new customer who has not authorized their call;
Limiting the number of robocalls exempted from the TCPA under the FCC's rules;
Requiring calls to have verified caller identification information associated with a call before the call can be put through; and
Extending the statute of limitations from one year to four years for callers violating robocall prohibitions.
The TCPA, working hand-in-hand with the Fair Debt Collection Practices Act (FDCPA), protects consumers from harassment and prohibits "causing a telephone to ring or engaging any person in telephone conversation repeatedly or continuously with intent to annoy, abuse, or harass any person at the called number."
While most people are ecstatic about the new changes, issues persist for the debt collection industry.
In a recent press release, Leah Dempsey, ACA International senior counsel and vice president of federal advocacy, stated:
"We strongly support tailored efforts to combat illegal and fraudulent robocalls which are a huge problem for all of us who are consumers," Dempsey said.
"However, consumer harm results when legitimate business calls are blocked or mislabeled and people do not receive critical, sometimes exigent information they need. We have urged the FCC to provide guidance on how to immediately correct any faulty blocking or mislabeling of calls."
Building trust in an era filled with distrust
Robocalls have been ramping up the last few years, prompting consumers to take all kinds of measures against them.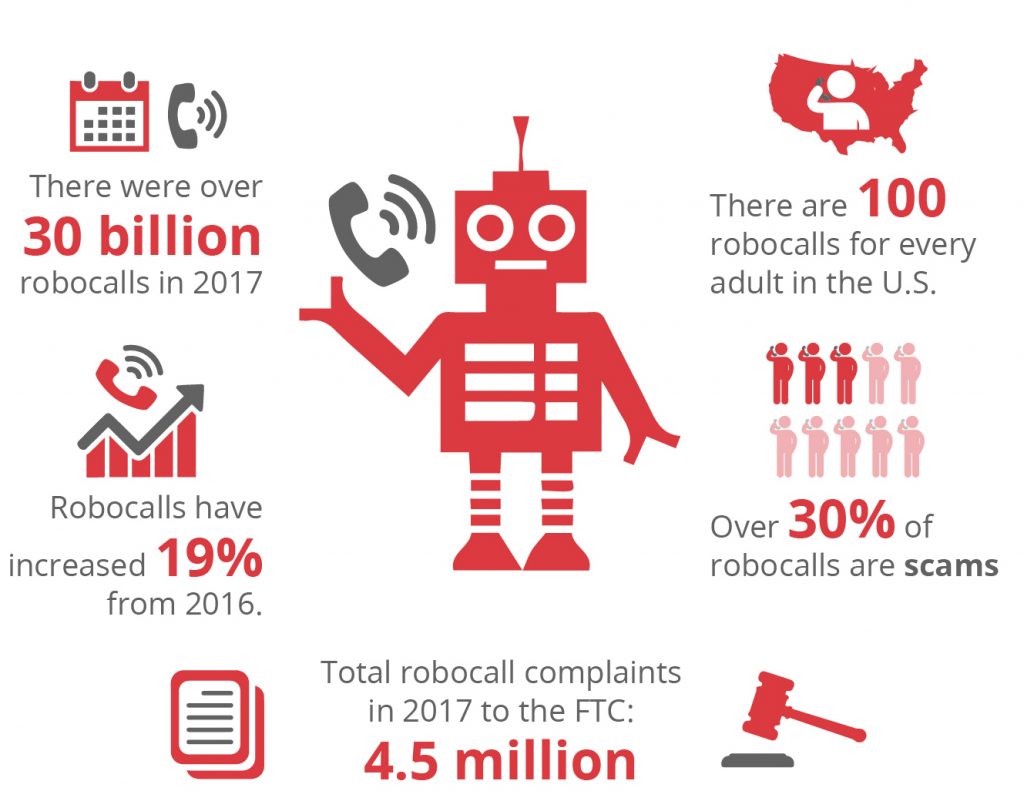 Many people now have installed call blockers on their phones, added their name to the National Do Not Call Registry, and just plain stopped answering the phone for unknown numbers.
AT&T and Comcast successfully rolled out a new feature for home phones that blocks "spoofed" calls, or calls that are made to seem like they're from a certain area, like your hometown.
Verizon Wireless also recently unveiled a free call filter service in a direct effort to shut down robocalls.
Marjorie Stephens, president and CEO of the Better Business Bureau, warns consumers about "debt collection con artists" that are using "good cop" and "bad cop" tactics to harass victims.
According to Stephens, here's how the "bad cop" scam works:
"You pick up a phone call and are told that the caller works for a loan company, a law firm or government agency. The caller claims to be collecting an overdue payment. When you reply that you don't owe money, the 'debt collector' threatens to sue you, arrest you or force you to appear in court thousands of miles from your home."
And the "good cop" scam?
"You pick up a phone call and are told that the caller works for a debt collection agency. The person who speaks to you is polite and seems to sincerely want to help you avoid going to court. All you need to do to fix the situation is to make a reasonable payment. They'll even offer to divide the payment into installments."
Unfortunately, this is similar to how actual debt collection agencies work. Scammers are getting smarter and making it harder for legitimate, lawful companies to operate.
Because people are wary of answering the phone to unknown numbers, here are some tips for successful debt recovery, even in the age of robocalls, spam, and scams.
Use different types of correspondence.
For these reasons, it's very important to use multiple types of correspondence when attempting to collect a debt, instead of just phone calls.
In fact, a Notice of Proposed Rulemaking (NPRM) was issued on May 7, 2019, to implement the Fair Debt Collection Practices Act (FDCPA).
The FDCPA was established in 1977 and makes no mention of current technologies such as email, text messaging and mobile phones.
This proposal would clarify how debt collectors and consumers can communicate, even allow debt collectors to send text messages to consumers about their debt.
Instead of just making phone calls, try sending letters and emails in addition to calling.
Be prepared to prove the validity of the debt.
If a consumer doesn't believe the debt is theirs, why would they pay it?
In the U.S., debt collectors are required by law to provide proof of the debt in writing. This proof must include the debt balance, name of the original creditor and a statement of consumer rights.
Have proof that the debt is legitimate, verify that it belongs to them, and be prepared to share that proof.
Avoid automated voicemails.
Nothing screams "scam" to consumers more than automated, robotic voicemail messages.
You'll need to prove you're a living, breathing human being if you want to have any chance at collecting on an account.
If you must leave voicemails, be sure to leave your name and the company you're with, as well as the reason you're calling.
While automated voicemails are certainly a way to save time, you need to think about the consumer first.
Introduce yourself and your company.
Always start out by introducing yourself and your company and state why you're calling.
Most robocall scammers will use a pre-recorded message or won't give out any of their information for verification.
This is highly suspicious to consumers, and they most likely won't call back.
Address any concerns right away.
Brown & Joseph recovery experts know that if you can identify and address any concerns the consumer may have right off the bat, you'll have much less trouble recovering the debt later on.
Take the time to answer questions and offer solutions.
Put yourself in the consumer's shoes. If you wouldn't answer the phone to a random number, why would they?