Introduction
Why do some businesses fail and others thrive?
According to Bloomberg, 8 out of 10 entrepreneurs who start businesses fail within the first 18 months.
Typically, 20% of small businesses fail in their first year, 50% in their fifth year and 70% after a decade.
As demonstrated by the sheer number of companies filing for bankruptcy this year, no company, no matter how long it's been in business, is safe.
Although the U.S. economy has been on the rise, more retailers are filing for bankruptcy now than during the 2008 financial crisis.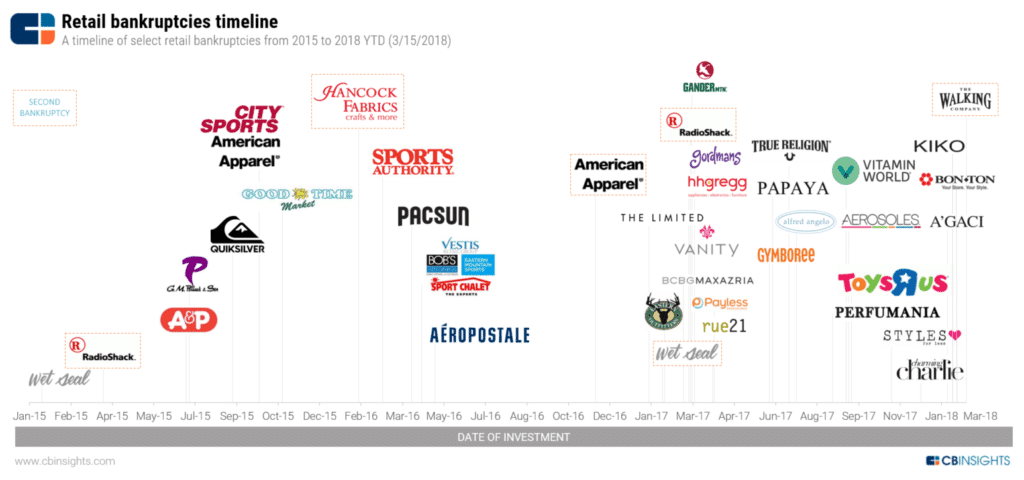 Avoiding bankruptcy is no longer as simple as refinancing and investors are weary due to a shifting market.
According to a report by Moody's, $1 trillion in high-yield debt from all distributors will come due over the next five years, leading credit markets to tighten and become much less accommodating to distressed borrowers.
So, here are the top five reasons why most businesses fail.
Reason #1 | Remaining static
Refusing to change with the times is what got a lot of companies in trouble.
Every successful business must have the ability to adapt to changing times.
For example, video rental stores were unable (and unwilling) to compete with video streaming services like Netflix and are now almost completely extinct.
Staying afloat is exponentially harder when competition is fierce and smaller businesses have a bullseye on their backs, especially true in lucrative markets where the stakes are high.
If smaller businesses can't compete against their larger counterparts, they need to find ways to pivot and stay in business. To do that takes a keen business sense and true guts.
Businesses need to evolve and grow to stay relevant and competitive in a cutthroat market.
Reason #2 | Poor customer service
Companies that provide the best customer experience devote lots of resources towards it, and it pays off.
In fact, according to Bain & Company, increasing customer retention rates by just 5% can increase profits by up to 95%!
According to an American Express study, "Americans will spend 9% more with companies that provide excellent service."
According to Forrester Research, 77% of people say that the most important thing companies can do to provide good service is to value their time.
Replying to complaints quickly is also the key to gaining customers' loyalty. According to Convince and Convert, replying to complaints quickly can increase customer advocacy by 25%.
And according to the White House Office of Consumer Affairs, on average a dissatisfied customer will tell between 9-15 people about their experience, while around 13% of dissatisfied customers will tell more than 20 people.
Reason #3 | Placing profit over people
Many businesses fail because they forget about their employees.
People are what build a company and make it successful, so companies with happy, reliable employees have a much better chance of surviving than those without.
Additionally, high turnover rates can have a negative effect on a company's profits.
Successful companies invest in their employees, develop their skills and provide them with a healthy, collaborative work environment.
Otherwise, employees will go where they are appreciated.
Reason #4 | Lack of transparency
According to a study by Cohn & Wolfe, consumers want three main things in a company: authenticity, transparency and a personalized experience.
Transparency is essential in gaining consumers' trust.
For example, Amazon is known for excellent customer service because the company consistently goes the extra mile and fosters a relationship with their customers based on transparency and trust.
Additionally, a study by TINYpulse found that management transparency is the top factor for contributing to employee happiness.
A lack of transparency can easily destroy employee and consumer trust and effectively ruin your company's reputation and profit.
As Berkshire Hathaway CEO Warren Buffet once said, "It takes 20 years to build a reputation and five minutes to ruin it."
Reason #5 | Debt
Finally, debt is the main reason why most businesses fail.
According to the 2015/2016 Global Entrepreneurship Report, over half of all businesses fail due to lack of funding.
A business needs to have enough cash flow to finance a turnaround and get back on its feet, meaning that companies should seek help before they hit zero.
Conclusion
Hiring a collection agency to collect on unpaid accounts is one of the best ways to increase cash flow and reduce company debt.
And since collection agencies specialize in credit management, they can provide valuable advice and support.
Letting a collection agency manage debt will allow a struggling company's employees to focus on core business activities, instead of trying to manage debt collection efforts.
If your company is struggling with unpaid accounts, give us a call and we'll see how we can help.