Introduction
According to an American Express study, "Americans will spend 9% more with companies that provide excellent service."
The customer experience (sometimes referred to as CX) is the product of an interaction between an organization and a customer over the duration of their relationship.
Good customer experience means that the individual's experience at all points of contact matches the individual's expectations.
According to Econsultancy, "81% of companies also believe they either have or are close to having a holistic view of their customers. In reality, only 37% of consumers say their favorite retailer understands them."
Recently, Forrester Research reported, "Over an eight-year period from 2007 to 2014, the total stock returns of customer experience (CX) leaders outperformed both a portfolio of CX laggards and the S&P 500."
They also found that CX leaders saw 17% revenue growth, while CX laggards saw only 3% growth.
Needless to say, those who do not have comprehensive customer experience programs are failing, and without a plan of action to catch up, they will suffer the same fate.
According to the Harvard Business Review, organizations that are able to skillfully manage the entire experience reap enormous rewards: enhanced customer satisfaction, reduced churn, increased revenue, and greater employee satisfaction.
They also discover more-effective ways to collaborate across functions and levels, a process that delivers gains throughout the company.
Moments of Truth
An excellent example of an organization that skillfully manages the entire customer experience is Scandinavian Airlines (SAS).
The company had been suffering until Jan Carlzon, former president of Scandinavian Airlines and author of Moments of Truth: New Strategies for Today's Customer-Driven Economy, coined the term "moments of truth."
"In today's global competitive world, the code I have found to success is that we must focus on customers as individuals, not as buyers of our products and services but as consumers of our products and services," Carlzon said in an interview with Bob Thompson of Customer Think.
In order to improve his customers' experiences, Carlzon first had to get to know them and ask where they got their first impression of the company.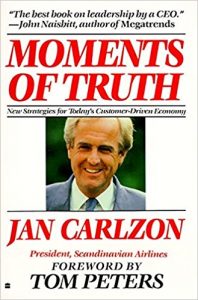 "We found out that they got the perception in those meetings with human resources, the employees working in the company: a salesman over the telephone; a girl behind the check-in counter; a stewardess on board the aircraft; the captain, the way he spoke over his microphone. And all these meetings really constituted the company as such," said Carlzon.
"That's why I said that if those meetings are good meetings, our asset side on the balance side will increase. If those meetings are bad meetings, the value of our assets on the balance sheet will decrease," he added.
"In other words, the only thing we have to do is to see that those critical meetings are as good as ever and that they exceed the expectations of the customers. Then we are going to be a successful company in moments of truth."
Carlzon's strategy worked. The company returned to profitability in his first year as president and earned a respectable $273 million before taxes on revenues of $3.9 billion.
How to Improve Your Customers' Experience
Here are a few ways to follow his example and improve your company's customer experience.
1. Get to know your customers
Understanding your customer demographics is the first step to implementing a better customer service strategy and improving your customers' experience.
Get detailed analytics on your customers' locations, ages, and interests. This will help you to better understand your customers' expectations and help you better serve them.
You can get to know your customers by asking for feedback, using analytics, and engaging with your customers one-on-one.
Feedback is crucial to a great customer service strategy.
Gather all the customer feedback you can, then begin to analyze the results and put together a new plan.
2. Measure performance
You need to understand your current customer service strategy before you can formulate a new one.
Take a good, hard look at your current customer service strategy and measure its performance based on things like customer retention and attrition.
After measuring the performance of your current customer service strategy, decide where there are opportunities for improvement.
3. Benchmark against other top companies
Gather some ideas from other top companies' customer service strategies.
A few companies known for their excellent customer service are Apple, Amazon and L.L. Bean.
What makes Apple's customer service strategy so great is the company's empathetic and knowledgeable approach to customer service. They train their employees to be experts and ensure the customer experience is effortless.
Amazon is known for excellent customer service because the company consistently goes the extra mile and fosters a relationship with their customers based on transparency and trust.
L.L. Bean prides itself on offering superior customer service. They firmly believe in making pieces that last, so they'll take back anything in any condition, no questions asked.
4. Timeliness is key
According to Forrester Research, 77% of people say that the most important thing companies can do to provide good service is to value their time.
There's nothing worse than leaving your customers helpless when they need you the most.
Whatever your customer service strategy is, be sure you respond to customers as quickly as possible.
Timeless pays off — replying to complaints quickly can increase customer advocacy by 25%!
5. Strive for continuous improvement
As with everything you do, strive for continuous improvement when it comes to your customer service strategy.
Ensure that improvements are made daily and that all issues are handled respectfully and in a timely manner.
6. Utilize Live Chat Features
Customers value their time, and so should you.
In fact, according to Business 2 Community, 79% of customers say that they prefer to live chat because of the immediacy it provides.
And, 42% of customers say that not having to wait on hold is a key reason why they prefer to live chat.
They can go about their day without the hassle of being on hold for an indefinite amount of time.
7. Personalize It
Nowadays, everything needs to be personalized.
Gone are the days of generic, one-size-fits-all customer service.
You need to get to know your customers and accommodate their individual needs.
8. Offer 24/7 Service
Speaking of accommodating needs, the world is moving faster than ever and people are busy.
In fact, according to this report by ubisend, 51% of consumers say a business needs to be available 24/7.
So, offering 24/7 customer service is a must.
9. Leverage Artificial Intelligence
Artificial intelligence (AI), like chatbots, for example, is being used by more and more companies to streamline customer service and provide technical support and guidance.
This is a great way to combine live chat and 24/7 customer service, eliminating most consumers' pain points.
Lemonade, a new insurance company, utilizes chatbots for customer service and can even settle a simple claim in three seconds flat. Wow!
According to Forbes, 74% of consumers would be happy to receive computer-generated insurance advice.
And, according to ubisend, 35% of consumers want to see more companies using chatbots.
10. Optimize for Mobile
According to Statista, over 2 billion people all over the world are now using smartphones, and that number is predicted to keep growing.
Additionally, over half of the world's web traffic now comes from mobile phones.
Make sure your website is responsive to accommodate customers on all types of devices.
Conclusion
Strive to go above and beyond to continuously improve your customer's experience.
Companies that provide the best customer experience devote lots of resources to it, and it pays off.
In fact, according to Bain & Company, increasing customer retention rates by just 5% can increase profits by up to 95%!