Introduction
As we look at the New Year, it's important that we not only focus on those positive things we're going to do with this new beginning but also remember which decisions led us to undesirable results in the first place.
Ordering the same fast food and expecting a different waistline is unrealistic.
Likewise, if you continue to use the same type of approach to handling your third-party collections, despite less than desirable results, then you're probably not addressing the real issue.
If we're looking for a silver lining in the last few turbulent years of the economy, it may be that quite a few of those individuals unwilling to put in the work are no longer in our industry.
For those remaining, working hard at achieving desired results, the answer may be a simple change to your collection policy.
If you can't work harder, make a resolution to work smarter.
In early 2019, I began working with a new client in the automotive distribution industry. From the top-down, the company is run very well.
Each individual takes pride in the work they put into making sure everything from issuing credit to agency turnover is handled with clockwork-like regularity.
While attending an industry roundtable a few months ago, my client discussed both the results from their internal and agency efforts with a few similar sized automotive distributors. What they heard was surprising.
Their bad debt lagged behind others at the table in both categories by large enough margins that there must have been more than simply demographic differences at play.
Inspired by the new challenge and a target number to hit, efforts were increased across the board. They held accounts longer and added additional letters and calls to their internal processes. New reports were created to catch more data points in an effort to see what area was dragging them down.
After only five months of the new process, the performance had actually dropped in some areas. Their agency reports were also showing stagnant performance numbers.
Realizing he literally could not work harder, their CFO sought out a referral from one of the companies he knew from the previous year's roundtable. My name was given to him by another client of ours and we began discussing their current setup and plans going forward.
My first question to him was this:
"Whether working with outside involvement or not, what plans do you have to improve your workflow?"
Adamant about their focus on the details, he assured me they were looking for any way to increase efforts. I suggested that, when it came to effort, we look at "different" not "more."
By spring, we had a plan in place to change what they were doing, measure results, and run an ongoing comparison with their own numbers. Because our client had East and West Coast distribution centers, we were able to split accounts and measure results side-by-side. Both hubs turned over accounts to Brown & Joseph to be worked by our partner law office.
The thought here is that both centers' performance would increase by simply employing our attorney-driven efforts versus those of a "standard" agency.
One kept timeframes unchanged while the other turned over accounts 15 days earlier. We compared performance at 90 and 120 days.
While there were some initial concerns about the sample size, the results were conclusive enough. The hub, doing everything the same and turning over accounts to Brown & Joseph at the same timeframe as before, saw a performance increase from 18% to 24% on dollars collected.
The other center, turning over accounts earlier, saw a performance increase from 19% to 28% on dollars collected. It wasn't necessarily a solution that will work for everyone, but it was a change that was needed in this instance. Since reviewing these numbers, our client is now taking a look at additional tweaks.
We've already instituted a separate credit application and personal guarantee to increase litigation success on those files actually making it to court.
Conclusion
When I spoke with my client recently about his upcoming plans for 2020, he turned my own original question back on me and asked what plans we had to increase our results going forward.
With the onus now on us, I didn't miss a beat and jumped right into several of our new initiatives.
Some were bold, others much more subtle. I think I caught him a bit off guard, but pleasantly so.
You see, we don't wait all year to make necessary changes to our collection policy. We turn over a new leaf every time we don't find the stone we're looking for.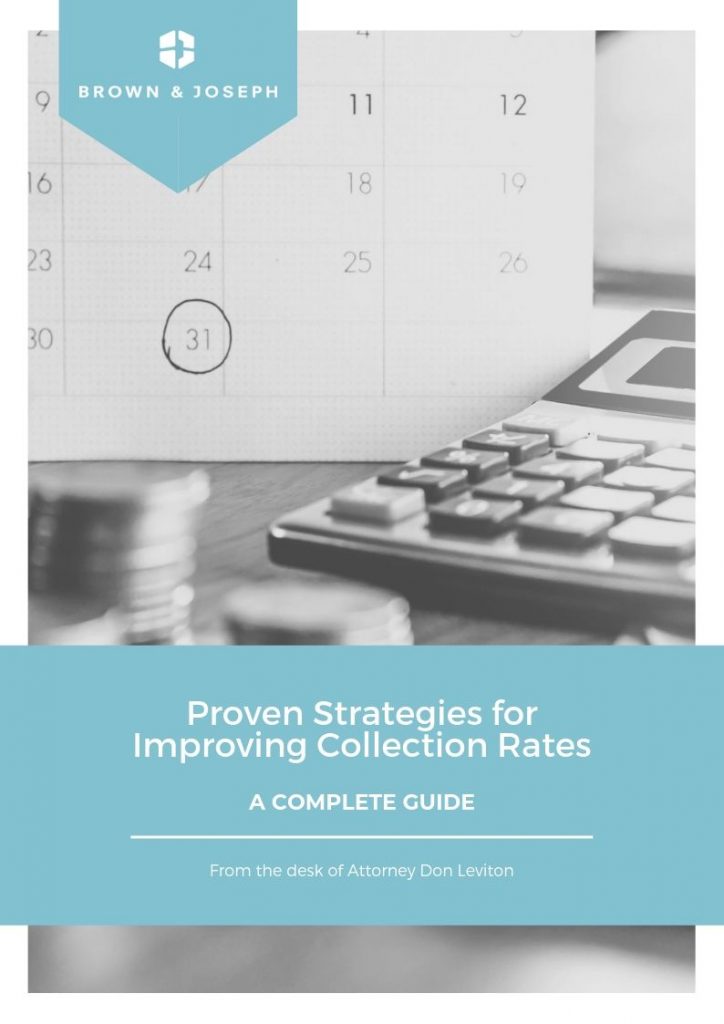 Proven Strategies for Improving Debt Collection Rates [PDF]
Get tips from Attorney Don Leviton on how to improve your debt recovery rates in this FREE guide.