Introduction
As Amazon is constantly in the news, it comes as no surprise that the multi-billion dollar company is making a maverick move to disrupt yet another industry.
Amazon, Berkshire Hathaway and JPMorgan Chase announced on Jan. 30, 2018, in a press release that they are partnering on ways to address health care for their U.S. employees, with the aim of improving employee satisfaction and reducing costs.
In short, the three corporate behemoths will be creating their own independent health care company that is "free from profit-making incentives and constraints."
"Our people want transparency, knowledge and control when it comes to managing their health care," said Jamie Dimon, Chairman and CEO of JPMorgan Chase.
Amazon, Berkshire Hathaway and JPMorgan said the initial focus will be on "technology solutions that will provide U.S. employees and their families with simplified, high-quality and transparent health care at a reasonable cost."
According to the Milken Institute, Americans spend over $3 trillion on health care each year.
And, studies show that 30% of that $3 trillion spent on health care is wasted.
"The ballooning costs of health care act as a hungry tapeworm on the American economy. Our group does not come to this problem with answers. But we also do not accept it as inevitable. Rather, we share the belief that putting our collective resources behind the country's best talent can, in time, check the rise in health costs while concurrently enhancing patient satisfaction and outcomes," said Berkshire Hathaway Chairman and CEO Warren Buffett.
According to the Bureau of Labor Statistics, insurance premiums are rising faster than employee earnings and overall inflation.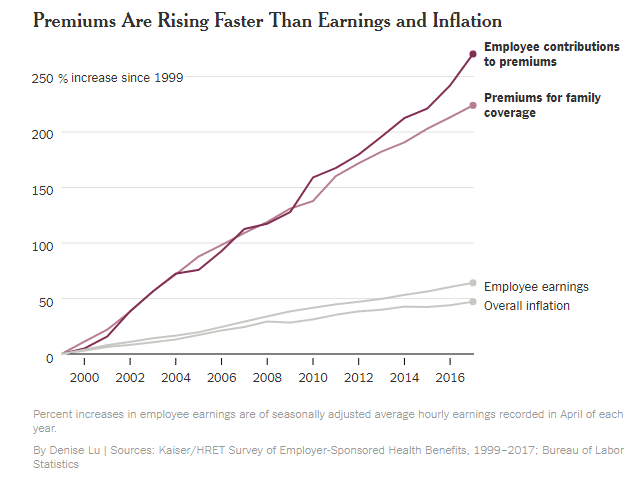 "The health care system is complex, and we enter into this challenge open-eyed about the degree of difficulty," said Jeff Bezos, Amazon founder and CEO.
"Hard as it might be, reducing health care's burden on the economy while improving outcomes for employees and their families would be worth the effort. Success is going to require talented experts, a beginner's mind, and a long-term orientation," he added.
"The three of our companies have extraordinary resources, and our goal is to create solutions that benefit our U.S. employees, their families and, potentially, all Americans," said Dimon.
After the news about the collaboration was released, health care investors began selling off shares of established health care companies like Anthem and UnitedHealth.
Both stocks rapidly fell over 5% within hours of the news.
What does this mean for insurance companies?
In January 2013, LIMRA reported that 90% of insurance industry executives believe that insurance companies will continue to form strategic alliances with "non-traditional organizations" to expand distribution.
Amazon's emergence into the health care arena could mean trouble for insurance companies.
The company is so notorious for disrupting industries that the term "Amazon effect" was coined.
According to Investopedia, the "Amazon effect" refers to Amazon's disruption of the way people shop and the economic ripple effects that go far beyond the customer's wallet to, directly and indirectly, impact economic activity, whether that impact is inflation, jobs or investment.
For example, when Amazon announced it was buying Whole Foods last year, the stocks of other grocery stores like Walmart, Target, and Kroger took a nosedive.
Although the new health care company will only be available to Amazon employees, there is much speculation that the company will expand in the future to include coverage for all U.S. citizens.
When (or if) Amazon expands further, insurance companies may need to lower their premiums to prevent Amazon from having a complete monopoly over the health care insurance industry.
Conclusion
In short, the company has great potential to disrupt the way health insurance companies do business, but we will just have to wait and see what happens.